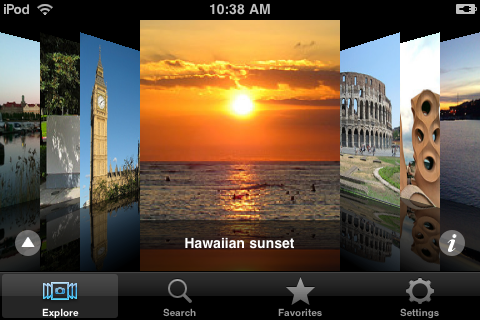 There are countless incredible photos on Flickr®. Explore the world of Flickr using Cool Photos with a gorgeous Cover Flow™ like interface. You don't even need a Flickr account to look at other people's public photos.

Search for interesting photos by combining powerful search terms such as the user name, tags, place, date, group, contact, and free text, or just relax, sit back, and select one of the predefined interesting Flickr streams with an ever changing selection of cool photos.

Tap on a photo to reveal information about the photo as provided by the author, and tap on highlighted text such as a tag to explore related photos. Double tap on the photo to see the stream in full screen view. Rotate the device to see the photos in portrait or landscape. Use pinch to zoom and swipe to move forward and back in the stream. Get detailed information about photos, read other people's comments about them, and add your own comments (a Flickr account is required for commenting). Save your favorite search results to explore them later. You can also save interesting photos to your Photo Album if the owner has not disabled downloading. Share links to interesting photos you find with your friends via Twitter™, Facebook®, or email.

This product uses the Flickr API but is not endorsed or certified by Flickr.